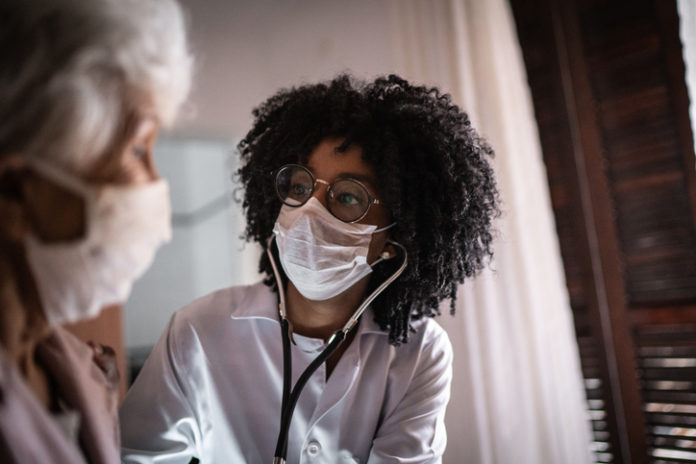 Baricitinib plus corticosteroids, compared to corticosteroids alone, was associated with improved pulmonary function in patients with COVID-19 pneumonia, an observational study found.
"While mild to moderate forms of SARS-CoV-2 pneumonia require in-hospital surveillance plus antiviral therapy, anti-inflammatory drugs and immunomodulators could be therapeutic options for patients with severe and life-threating pneumonia. Research is needed to define both the role of different medications and customized strategies of management in patients with SARS-CoV-2 at risk of progression to critical condition," the researchers explained.
Moderate to severe COVID-19 pneumonia patients who were treated with lopinavir/ritonavir and hydroxychloroquine additionally received either corticosteroids alone (n=50) or corticosteroids plus baricitinib (n=62). The main outcome was the change in oxygen saturation from hospitalization to discharge; this was determined by pulse oximetry (SpO2)/FiO2. The proportion of patients who needed supplemental oxygen at discharge and one month post-discharge was also assessed.
The baricitinib plus corticosteroids group, compared to the corticosteroids alone group, displayed a more significant improvement in SpO2/FiO2 from hospitalization to discharged, with a mean difference adjusted for inverse propensity score weighting (IPSW) of 49 (95% confidence interval [CI], 22 to 77; P<0.001). The corticosteroids alone group, compared to the group who also received baricitinib, was significantly more likely to require supplemental oxygen at discharge (62% vs. 25.8%, reduction of the risk by 82%, odds ratio [OR] adjusted for IPSW=0.18; 95% CI, 0.08 to 0.43; P<0.001) and one month after discharge (28% vs. 12.9%, reduction of the risk by 69%, OR adjusted for IPSW=0.31; 95% CI, 0.11 to 0.86; P=0.024).
The study was published in Rheumatology on Oct. 6.
"In summary, our results suggest that baricitinib could have synergistic biological effects when combined with corticosteroids in moderate to severe SARS-CoV-2 pneumonia. The principal anti-inflammatory effect of glucocorticoids is to inhibit many pro-inflammatory genes that encode cytokines, chemokines, cell adhesion molecules, inflammatory enzymes and receptors to address the inflammatory process and restore homeostasis. Furthermore, corticosteroid pulse therapy has induced a significant decrease in serum IL-6 levels in RA," the researchers wrote in their conclusion.
The study authors called for future randomized trials to confirm their findings, as well as additional studies to determine more specific data about baricitinib administration. For instance, they said, it remains unknown whether patients with more mild symptoms may benefit from the drug, as well as whether the drug would be effective without corticosteroids. Further, the optimal dose and treatment duration remain to be determined.
Previous research about baricitinib has linked it to improved COVID-19 outcomes, also in combination with other drugs. Last month, Eli Lilly announced that the drug, when combined with remdesivir, reduced recovery time for COVID-19 patients by about a day compared to patients receiving remdesivir alone.
And it's not the only arthritis drug that's garnered attention. Earlier this year, a French study found favorable outcomes for COVID-19 patients with moderate to severe pneumonia treated with tocilizumab.
Credit: Original article published here.