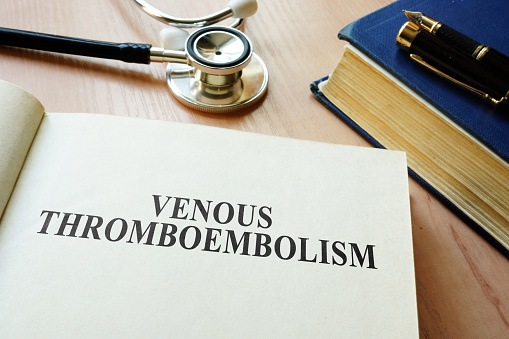 A new analysis suggests that in patients with SARS-CoV-2 (COVID-19), the risk for venous thromboembolism (VTE) remained low to moderate and did not increase relative to those without COVID-19 or who had flu.
"Venous thromboembolism is a potentially fatal complication of COVID-19 infection and thromboprophylaxis should be balanced against risk of bleeding," the researchers wrote. "This study aimed to examine risks of VTE and major bleeding in hospitalized and community-managed COVID-19 patients compared with control populations."
The population-based study, published in Clinical Infectious Diseases, included 9,460 participants who had COVID-19, 226,510 participants who were COVID-19 negative, and 16,281 participants who had influenza. The researchers focused on the 30-day risks of VTE and major bleeding in COVID-positive patients compared to COVID-negative patients, with the influenza population as a third external cohort. The examined medical records of all COVID-19 patients at six centers in Denmark.
According to the study results, the 30-day risk for VTE was 0.4% among COVID-19 participants (16% hospitalized), 0.3% in COVID-19-negative participants (12% hospitalized) and 1.0% in those with influenza (59% hospitalized). VTE risks were higher but comparable in hospitalized patients in all three groups (1.5% vs. 1.8% vs. 1.5%, respectively). Major bleeding was present in 0.5% of all COVID-19 participants (2.3% in those hospitalized). Of the 582 patients hospitalized with COVID-19, VTE was reported in 4% (major bleeding, 0.4%). In ICU patients, VTE risk was 7% and major bleeding was 11%.
"Among people with COVID-19 infection in a population-based setting, VTE risks were low to moderate and were not substantially increased compared withCOVID-19 test-negative and influenza patients," the authors concluded. "Risk of severe bleeding was low for ward patients, but mirrored VTE risk in the intensive care setting."
Follow-up #8

VTE in patients with COVID-19: A population-based cohort study. VTE risks were low to moderate and were not substantially increased compared with SARS-CoV-2 test-negative and influenza patients. https://t.co/HsYFU6G8O8

— Martin Juhl (@MartinJuhl2) January 16, 2021
Credit: Original article published here.