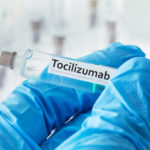 The use of tocilizumab in patients hospitalized with severe COVID-19 pneumonia was not associated with improved mortality compared to placebo, a study found, but it may have helped improve secondary outcomes, including days on mechanical ventilation and length of stay.
"Although it is important to be cautious in interpreting secondary outcomes, our trial helped in the design of subsequent studies which do show some improvement in outcomes with tocilizumab, particularly when given in combination with corticosteroids," explained senior author Atul Malhotra, MD, research chief of pulmonary, critical care and sleep medicine at UC San Diego Health, in a press release.
The phase 3 trial randomized patients hospitalized with severe COVID-19 pneumonia 2:1 to a single intravenous infusion of tocilizumab (8 mg/kg of body weight) or placebo; about a quarter of patients were given a second dose of their intervention within eight to 24 hours. The main outcome was 28-day clinical status using a 7-point ordinal scale, with 1 defined as discharged or ready for discharge and 7 defined as death.
Final analyses included 438 patients, of whom 294 received tocilizumab and 144 received placebo. At day 28, the median value for clinical status per the ordinal scale in the tocilizumab group was 1.0 and in the placebo group, 2—defined as non-intensive care unit (ICU) hospitalization without supplemental oxygen. Rates of adverse events were similar between the groups (34.9% vs. 38.5%). At day 28, mortality was similar between the tocilizumab and placebo groups (19.7% vs. 19.4%).
In terms of secondary outcomes, the tocilizumab group had a higher median number of ventilator-free days (22.0 vs. 16.5 days), as well as a shorter median time to discharge or ready to be discharged (20 vs. 28 days) and a shorter median ICU duration (9.8 vs. 15.5 days days).
The phase III trial kicked off in April 2020, and a lot more data about COVID-19 have become available since then.
"Since this trial launched, a lot has been learned about the virus and about how COVID-19 manifests in different people, in different ways and stages," Dr. Malhotra said. "These findings need to be understood in that context. We looked at very sick patients. There are very few proven therapies for severe COVID-19. Tocilizumab and some monoclonal antibody treatments may still have utility in specific circumstances, but more work needs to be done."
"In fact, more work must be done," Dr. Malhotra added. "The need for effective treatments for patients with severe COVID-19 pneumonia remains a major challenge of this pandemic. Each new study brings us one step closer to putting that challenge behind us."
The study was published in the New England Journal of Medicine.
Credit: Original article published here.