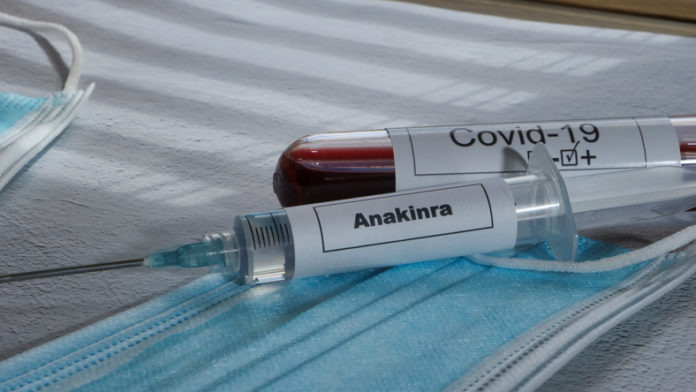 The results of a new study suggest that there may be a way to use anakinra in the treatment of severe COVID-19.
Anakinra is currently approved by the FDA to treat rheumatoid arthritis. It is also sometimes used to treat patients who have other rheumatic diseases, including gout. And, like several other arthritis drugs, it has been considered as a possible treatment for COVID-19 ib the past.
A new study, which is currently in preprint and available on medRxiv, assessed the use of personalized immunotherapy in patients critically ill with COVID-19.
The researchers concluded, "Biomarkers may guide favorable anakinra responses in critically ill patients with COVID-19."
The rationale, according to the authors, is that "Macrophage activation syndrome (MAS) and complex immune dysregulation (CID) often underlie acute respiratory distress (ARDS) in COVID-19."
ESCAPE was an open-label, phase II, prospective clinical trial that took place between April and November 2020 in four departments of Internal Medicine and seven intensive care units (ICUs) located in Greece. One hundred and two patients with a sequential organ failure assessment (SOFA) score ≥2 or ARDS underwent screening for MAS (ferritin more than 4420 ng/ml) and CID (ferritin ≤4420 ng/ml and low expression of HLA-DR on CD14-monocytes). Intravenous anakinra was given to patients with MAS and CID who had increased aminotransferases, while tocilizumab was given to patients with CID and normal levels of aminotransferases. The main outcome measure was a decrease in SOFA score ≥25% and/or eight-day respiratory ratio increase ≥50%. Secondary outcomes included 28-day mortality, 28-day change in SOFA score, serum biomarkers, and cytokine production by mononuclear cells.
More than half of patients who received anakinra achieved the main endpoint (58.3%), compared to a third of the tocilizumab group (odds ratio, 3.11; 95% confidence interval, 1.29-7.73; P=0.011). Mortality and SOFA score changes did not largely differ between the groups. By day four, the anakinra group had decreased ferritin, and the tocilizumab group had increased interleukin (IL)-6, soluble urokinase plasminogen activator receptor (suPAR), and HLA-DR expression. Anakinra was associated with a greater capacity of mononuclear cells to produce IL-6. Patients treated with tocilizumab were more likely to sustain secondary infections.
A separate study, first published online in The Lancet Rheumatology in May 2020, also evaluated the use of anakinra in patients with COVID-19. In this study, patients with severe COVID-19 who received the drug had a decreased need for invasive mechanical ventilation in the ICU as well as decreased mortality.
Credit: Original article published here.