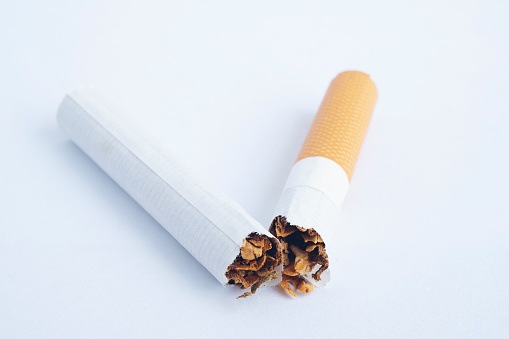 Adding Smoking Cessation to Lung Screening Can Reduce Mortality and Increase Life Years in Lung Cancer Patients
Current smokers are nearly three times as likely to die prematurely due to cardiovascular disease (CVD) compared with those who have never smoked, with an even higher risk among those who started smoking during childhood, according to new research from the Journal of the American Heart Association.
Researchers analyzed data collected between 1997 and 2014 on medical histories, habits, and demographics of over 390,000 adult smokers and nonsmokers in the United States. Occasional smokers were excluded. 58% of participants were never smokers, 23% were ex-smokers, and 19% were current smokers. Among current smokers, 2% had started smoking before age 10, and 19% began smoking between ages 10 and 14.
During the follow-up period, 4,479 people died before the age of 75 from heart disease or stroke: 579 never smokers, 1227 ex‐smokers, and 1673 current smokers. Current smokers had nearly three times the risk of premature death compared to never smokers. The risk was higher among those who began smoking before the age of 15, and highest of all for those who started before age 10.
Quitting smoking by the age of 40 reduced overall risk of premature death from CVD by about 90%. Quitting at any age offered benefits, with increased reductions in premature death risk the earlier a person quit. Compared to never smokers, smokers who quit between the ages of 15 to 34 had about the same risk of dying from heart disease or stroke. Those who quit between ages 35 to 44 had about a 20% higher risk of premature death from CVD than non-smokers, those who quit between ages 45 to 54 had about a 60% higher risk, and those who quit between ages 55 to 64 had about a 70% higher risk.
"Preventing the next generation from smoking can save lives, but we must also emphasize that quitting smoking can save lives now, and in the years to come," lead study author Blake Thomson, MPhil, DPhil, epidemiologist at the University of Oxford, said in a press release. "Simply put, health policies should aim to prevent young people from smoking and should clearly communicate the benefits of quitting to those who do smoke, ideally as young as possible, and before the onset of serious illness."
Today in @JAHA_AHA: #Smoking from childhood triples risk of premature death from #CVD in adulthood. Those who quit, especially before age 40, can avoid most excess risk.

Read more here: https://t.co/dbNPSEQvzO@Oxford_NDPH @georgeinstitute @FCTCofficial @TobaccoFreeKids

— Blake Thomson (@blakewthomson) October 28, 2020
Short but powerful read.

Starting to smoke at young age is bigly risky but fortunately quitting smoking before age 35 is bigly good.https://t.co/vMzDgJx2gL

— Joe Gitchell (@jgitchell) October 28, 2020
Credit: Original article published here.