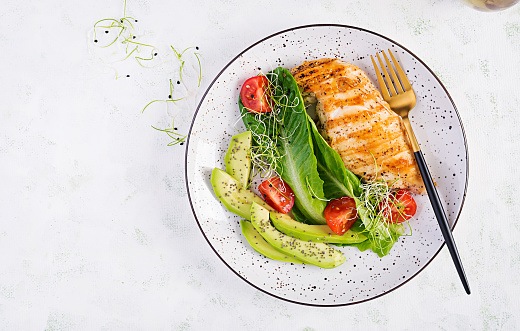 One man in the United Kingdom is doing the highly improbable – fighting off the deadly glioblastoma multiforme (GBM) by adopting a rigorous ketogenic (keto) diet. The case study was published in Frontiers in Nutrition. 
GBM caries one of the highest mortality rates of any primary brain tumor and remains poorly managed. While the prognosis is poor among all age groups; younger patients that express IDG1 mutations tend to live longer.
In this case, a 26-year-old presented hospital in August 2014 with episodes of left-sided facial numbness and seizures. A contrast enhanced brain MRI showed a tumor in the right inferior frontal lobe. Following histopathological analysis and seven cream and white cores of brain biopsy, the patient was diagnosed with stage IV IDH-mutant glioblastoma.
Given his culture beliefs, the patient opted to forgo standard of care in favor of a diligent, keto diet low in carbohydrates and rich in fats. Subsequently, "the patient's tumor continued to grow very slowly over a three-year period without expected vasogenic edema until 2017," according to Thomas Seyfried, a co-author of the report and a leading researcher and his co-authors, Boston College researcher Purna Mukherjee, Aditya Shivane, MD, of University Hospital Plymouth NHS Trust, in the United Kingdom, U.S.-based nutritionist Miriam Kalamian, Joseph Maroon, MD, of the University of Pittsburgh, and Giulio Zuccoli, MD, of the Drexel University School of Medicine via a press release about the case study.
"As GBM, like most malignant cancers, is dependent on fermentation for energy synthesis and survival, the simultaneous restriction of fermentable fuels, such as glucose and glutamine, while elevating non-fermentable ketone bodies, offers a non-toxic therapeutic strategy for managing GBM," said Dr. Seyfried. "Further studies will be needed to test this hypothesis in other patients diagnosed with GBM."
Surprising Results
"Following surgery, the patient continued with a self-administered ketogenic diet to maintain low Glucose Ketone Index (GKI) values, indicative of therapeutic ketosis," the researchers report. "In light of continued slow progression of the residual tumor, the patient intensified his KMT starting in October, 2018 with inclusion of mindfulness techniques to reduce stress. While Magnetic Resonance Imaging (MRI) shows slow interval tumor progression, the patient remains alive with a good quality of life at the time of this report." The patient is now at 82 months from original diagnosis, and is demonstrating a good quality of life outside of occasional seizures.
"We were surprised to discover that KMT could work synergistically with the IDH1 mutation to simultaneously target the two major metabolic pathways needed to drive the growth of GBM," said Dr. Seyfried. "Glucose drives the glycolysis pathway, while glutamine drives the glutaminolysis pathway."
Dr. Seyfried added: "No tumor, including GBM, can survive without glucose and glutamine. Our study has identified a novel mechanism by which an acquired somatic mutation acts synergistically with a low carbohydrate, high fat diet to provide long-term management of a deadly brain tumor."
Credit: Original article published here.