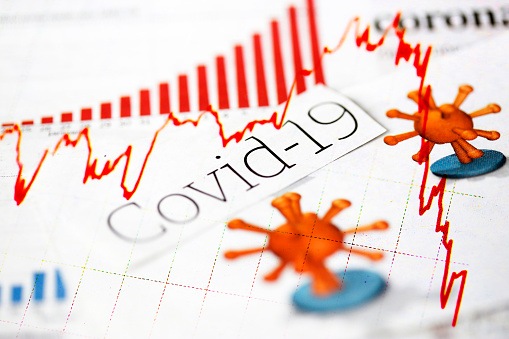 On Friday, October 9, 2020, the world reports a record number of COVID-19 over a day – 94,647 – fueled in large part by a second wave in Europe. Here are the latest coronavirus numbers, according to Worldometer:
World Cases: 36.9 million.
World Deaths: 1,069,037.
Countries Outside of the US with Most Infections:
India: 6,946,598 confirmed cases; 106,925 deaths.
Brazil: 5,035,744 confirmed cases; 149,189 deaths.
Russia: 1,272,238 confirmed cases; 22,257 deaths.
Colombia: 886,179 confirmed cases; 27,331 deaths.
Spain: 884,381 confirmed cases; 32,688 deaths.
China Joins Global Covax Initiative
China said on Friday that it will join the Covax initiative, an international effort to deliver COVID-19 vaccines to about two-thirds of the world population by 2022, as reported by the Washington Post. This reversal makes China the biggest player in the vaccine development race to Covax. In a statement announcing the Covax deal, Chinese Foreign Ministry spokeswoman Hua Chunying said China is confident it could ramp up manufacturing. "We are taking this concrete step to ensure equitable distribution of vaccines, especially to developing countries, and hope more capable countries will also join and support Covax," Hua said.
National News
Friday, October 9, 2020
US Cases: Over 7.8 million.
US Deaths: 217,997.
US States with Most Infections:
California: 845,767 confirmed cases; 16,428 deaths.
Texas: 824,812 confirmed cases; 16,886 deaths.
Florida: 728,921 confirmed cases; 15,187 deaths.
New York: 505,230 confirmed cases; 33,363 deaths.
Georgia: 327,407 confirmed cases; 7,294 deaths.
Doctor Clears Trump for Public Engagements
President Trump's doctor said that the President has completed his coronavirus treaments and is cleared to resume "public engagements" on Saturday. "Saturday will be day 10 since Thursday's diagnosis, and based on the trajectory of advanced diagnostics the team has been conducting, I fully anticipate the president's safe return to public engagements at that time," Dr. Sean Conley said.
Thursday, October 8, 2020
Regeneron Applies for Emergency Use for Antibody Therapy
Regeneron has applied for to the US Food and Drug Administration for emergency use authorization for its experimental monoclonal antibody therapy. This cocktail was used to treat President Donald Trump's coronavirus infection. The company confirmed on its website the submission of emergency use to the FDA. "Under our agreement with the U.S. government for the initial doses of REGN-COV2, if an EUA is granted the government has committed to making these doses available to the American people at no cost and would be responsible for their distribution," the statement said. "At this time, there are doses available for approximately 50,000 patients, and we expect to have doses available for 300,000 patients in total within the next few months.
CDC Now Projects 233,000 US Deaths by End of October
The US Centers for Disease Control and Prevention now predicts 224,000 to 233,000 US deaths from COVID-19 by the end of October – up by 1,000 since the previous enable forecast, released on September 30.
Notre Dame University President in Hot Water Over COVID-19 Diagnosis
University of Notre Dame President  Rev. John I. Jenkins  is facing a student petition for his resignation and a possible "no confidence," by faculty following his COVID-19 diagnosis. Students are furious that Jenkins attended the nomination ceremony for Amy Coney Barrett at the White House Rose Garden on Sept. 26 without donning a mask and failing to adhere to social distancing.
Amtrak Warns of Mass Layoffs Without Stimulus
Amtrak says without $5 billion in stimulus funds from the federal government, it will layoff 2,400 workers while reducing the frequency of trains on some routes, and halting major improvement projects. "We have seen that our ridership is not returning as quickly or at the levels that we had hoped for," Amtrak president and CEO William J. Flynn wrote in a Thursday letter to Vice President Mike Pence and House Speaker Nancy Pelosi.
Cases Once Again Rising in New Jersey
New Jersey reports 1,301 new cases of COVID-19 on Thursday – the state's highest total of new cases since May 29. "This is a sobering number," said New Jersey Governor Phil Murphy. The positivity rate for NJ is ow at 3.69%.
Wednesday, October 7, 2020
US Cases: 7.7 million.
US Deaths: 216,125.
US States with Most Infections:
California: 838,705 confirmed cases; 16,262 deaths.
Texas: 814,323 confirmed cases; 16,664 deaths.
Florida: 722,707 confirmed cases; 14,914 deaths.
New York: 501,824 confirmed cases; 33,330 deaths.
Georgia: 324,650 confirmed cases; 7,229 deaths.
How COVID-19 Impacts Tonight's Debate
Tonight Vice President Mike Pence will go head-to-head in debate with Democratic Senator Kamala Harris. In response to the White House coronavirus outbreak – a number of new safety protocols are in place. Pence and Harris will have to stand more than 12 feet apart (instead of the standard six), using plexiglass as barriers between the two. Also, everyone in the audience will be required to wear masks. Both VP Pence and Sen. Harris have tested negative for COVID-19 going into tonight's debate.
Tuesday, October 6, 2020
White House Denies Offers for Contact Tracing
The White House declined offers from the CDC to help investigate the source of the outbreak that lead to President Trump's COVID-19 infection.
FDA Demands Safety Before Any Vaccine is Approved
The US Food and Drug Administration stated on Tuesday that it wants to see two months of follow-up data after volunteers get their second dose of a coronavirus vaccine as part of clinical trials testing potential coronavirus vaccines. This request will make it near possible for any vaccine maker to apply for emergency use authorization by election day or the end of this month.
Only Four US States are Trending Downwards
Only four US states are showing downward trends in new COVID-19 cases: Hawaii, Kansas, Missouri, and South Carolina. That leaves at least 22 states showing upward trends, and 24 states are showing steady trends.
Monday, October 5, 2020
CDC Once Again Updates Guidance to Say COVID-19 is Airborne
The US Centers for Disease Control and Prevention (CDC) has once again updated its guidance about how COVID-19 can spread. "Today's update acknowledges the existence of some published reports showing limited, uncommon circumstances where people with COVID-19 infected others who were more than 6 feet away or shortly after the COVID-19-positive person left an area. In these instances, transmission occurred in poorly ventilated and enclosed spaces that often involved activities that caused heavier breathing, like singing or exercise. Such environments and activities may contribute to the buildup of virus-carrying particles."
Biden States He Will Debate Trump is Scientists Approve
Joe Biden will listen to the doctors, he said when asked if he would debate President Trump if he were healthy by their next scheduled debate on Oct. 15.  "If the doctors — listen to the science. If the scientists say that it's safe and the distance are safe, then that's fine. I'll do whatever the experts say is appropriate to do."
NJ Gov. Murphy Says Trump Was Reckless
New Jersey Governor Phil Murphy said that President Trump was reckless for deciding to Bedminister rally last Thursday in NJ after his adviser, Hope Hicks, has tested positive for coronavirus. "We continue to send out best wishes and prayers to the President, the First Lady and former Gov. Chris Christie and all that have tested positive over the weekend. This is not a matter of politics but a matter of humanity, but this is also a matter of leadership by example and it is clear that the President and his staff acted recklessly in the first place knowing they had been exposed to someone with a confirmed positive test," Murphy said.
Health Care Workers Should Be At Front of Vaccine Line
Frontline health care workers should be the first to receive COVID-19 vaccinations, according to experts advising the federal government. Following health care workers, then should come older adults living in congregate settings, like nursing homes, a National Academies of Sciences, Engineering, and Medicine (NASEM) committee said in a final report.
Wednesday, October 1, 2020
Massive Airline Layoffs
Sadly, 32,000 airline employees are losing their jobs today after attempts to receive federal money failed. American Airlines is cutting 19,000 jobs, and United Airlines is cutting 13,000 jobs. United CEO Scott Kirby said the decision marked ""a very sad day for all of us here at United."
American Airlines CEO Doug Parker had said in an interview with CNN that he hoped the layoffs could be avoided if the airlines and Congress could reach a deal, that has yet to occur.
Credit: Original article published here.