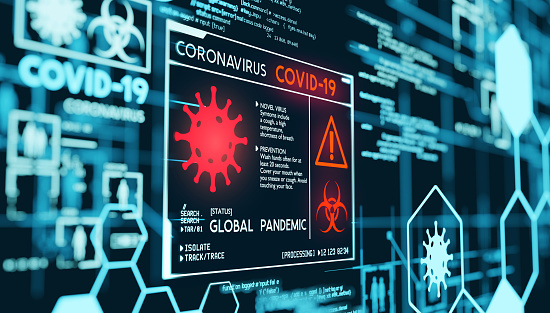 Trump Tests Positive for COVID-19
President Donald Trump and First Lady Melania Trump have both tested positive for COVID-19, a significant development coming just weeks before the Presidential election. "Tonight, @FLOTUS and I tested positive for COVID-19. We will begin our quarantine and recovery process immediately. We will get through this TOGETHER!" Trump tweeted early Friday morning.
Tonight, @FLOTUS and I tested positive for COVID-19. We will begin our quarantine and recovery process immediately. We will get through this TOGETHER!

— Donald J. Trump (@realDonaldTrump) October 2, 2020
The President's personal physician, Navy Cmdr. Dr. Sean Conley, wrote that he received confirmation of the positive tests on Thursday evening. "The President and First Lady are both well at this time, and they plan to remain at home within the White House during their convalescence," Conley wrote. "The White House medical team and I will maintain a vigilant watch, and I appreciate the support provided by some of our country's greatest medical professionals and institutions," Conley wrote.
As such, the President's Friday schedule has been cancelled, except for a phone call he will host on COVID-19 support to vulnerable seniors.
Vice President Mike Pence and his wife, Karen, both tested negative. As have both Ivanka Trump and Jared Kushner.
Democrat nominee and Trump opponent, former Vice President Joe Biden, offered his well-wishes to President Trump.
More on this story as it develops.
World News:
On Friday, October 2, 2020, here are the latest COVID-19 numbers, according to statistics aggregator Worldometer.
Global Cases: Over 34.5 million.
Global Deaths: 1,029,177.
Outside of the US, the nations with the most confirmed cases of COVID-19:
India: 6,399,329 confirmed cases; 99,837 deaths.
Brazil: 4,849,229 confirmed cases; 144,767 deaths.
Russia: 1,194,643 confirmed cases; 21,077 deaths.
Colombia: 835,339 confirmed cases; 26,196 deaths.
Peru: 818,297 confirmed cases; 32,535 deaths.
European Stocks Fall Following Trump Positive Test
European stocks opened lower on Friday following President Trump's positive coronavirus test. Per a CNN report, the main markets all fell, with the UK FTSE 100, German Dax and French Cac 40 all trading around 1% down in the opening minutes of trade.
Russia Reports Highest Infection Rate in Months
The number of new COVID-19 infections has exceeded 9,000 in the past 24-hours, the highest total since June 1.
EMA Begins Rolling Review of AstraZeneca/Oxford COVID-19 Vaccine
The European Medicines Agency (EMA) started a rolling review of the AstraZeneca-Oxford coronavirus vaccine candidate, it said in a statement. EMA stated,  "a rolling review is one of the regulatory tools that the Agency uses to speed up the assessment of a promising medicine or vaccine during a public health emergency," and it basically means that instead of evaluating all the data on the vaccine after it is completed."
"The decision to start the rolling review of the vaccine is based on preliminary results from non-clinical and early clinical studies suggesting that the vaccine triggers the production of antibodies and T cells (cells of the immune system, the body's natural defences) that target the virus," the EMA said in its statement. "The rolling review will continue until enough evidence is available to support a formal marketing authorisation application."
National News
Friday, October 2, 2020
US Cases: Over 7.5 million.
US Deaths: 212,912.
US States with Most Infections:
California: 822,693 confirmed cases; 15,989 deaths.
Texas: 790,467 confirmed cases; 16,251 deaths.
Florida: 711,804 confirmed cases; 14,557 deaths.
New York: 494,607 confirmed cases; 33,266 deaths.
Georgia: 319,334 confirmed cases; 7,063 deaths.
Health Care Workers Should Be At Front of Vaccine Line
Frontline health care workers should be the first to receive COVID-19 vaccinations, according to experts advising the federal government. Following health care workers, then should come older adults living in congregate settings, like nursing homes, a National Academies of Sciences, Engineering, and Medicine (NASEM) committee said in a final report.
Wednesday, October 1, 2020
Massive Airline Layoffs
Sadly, 32,000 airline employees are losing their jobs today after attempts to receive federal money failed. American Airlines is cutting 19,000 jobs, and United Airlines is cutting 13,000 jobs. United CEO Scott Kirby said the decision marked ""a very sad day for all of us here at United."
American Airlines CEO Doug Parker had said in an interview with CNN that he hoped the layoffs could be avoided if the airlines and Congress could reach a deal, that has yet to occur.
Credit: Original article published here.