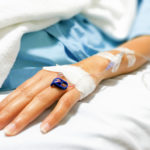 An early access treatment protocol (EAP) found that daratumumab monotherapy was safe in a population of patients with heavily treated relapsed or refractory multiple myeloma (RRMM).
"Collectively, this EAP provides additional evidence of the favorable safety profile of daratumumab in patients with heavily pre-treated RRMM and the associated maintenance of patient-reported health-related quality of life (HRQoL)," the researchers concluded.
Patients who were previously treated with at least three lines of therapy including a including a proteasome inhibitor (PI) and an immunomodulatory drug (IMiD) or who were double refractory to a PI and IMiD were given intravenous daratumumab 16 mg/kg.
Final analysis included 293 patients who received at least one dose of daratumumab. A third of patients were from the UK, a quarter each from Spain and Italy, and 17.1% from Russia. The median age was 64 years (range, 32-85 years); 13.7% of patients were aged 75 years or older. Most patients were male (56.7%), White (93.5%), and had a baseline Eastern Cooperative Oncology Group performance status of 0 or 1 (88.7%).
Patient histories included vascular disorders (38.9%); surgical and medical procedures (31.1%); musculoskeletal and connective tissue disorders (22.9%); metabolism and nutrition disorders (20.8%); and benign, malignant, and unspecified (including cysts and polyps) neoplasms (15.0%). Comorbidities affecting more than 5% of patients included hypertension (31.4%), peripheral neuropathy (6.8%), anemia (6.8%), hypercholesterolemia (5.8%), deep vein thrombosis (5.5%), back pain (5.5%), and pulmonary embolism (5.1%).
The median duration of daratumumab exposure was 4.2 months (range, 0.03-24.1 months), and median number of infusions was 13 (range, 1-37). The overall response rate was 33.1%. Progression-free survival was 4.63 months. Overall, 60.1% of patients experienced grade 3 or 4 treatment-emergent adverse events (AEs), the most common being thrombocytopenia (18.8%), anemia (11.9%), and neutropenia (11.6%); serious AEs most commonly reported were pneumonia (4.4%) and pyrexia (4.1%).
Overall, the study yielded no new safety signals, and patients maintained their HRQoL, the study authors reported.
The study was published in Oncology and Therapy.
Credit: Original article published here.