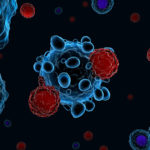 The latest updates from the KarMMA trial, published in The New England Journal of Medicine, showed that treatment with idecabtagene vicleucel (ide-cel) for relapsed/refractory multiple myeloma (RRMM) produced lasting remissions in nearly three-quarters of patients.
Ide-cel is an investigational B-cell maturation antigen (BCMA)-targeting chimeric antigen receptor (CAR) T-cell therapy. The U.S. Food and Drug Administration is anticipated to announce a decision regarding approval of this therapy for RRMM this month.
The phase II KarMMA trial comprised 128 adults with RRMM who have received at least three prior therapies. Patients received one dose of ide-cel and were followed for a median 13.3 months. The overall response rate was 73%, with 33% of patients achieving a complete response (CR) or better. Thirty-three patients (26%) had confirmed minimal residual disease-negativity, including 79% of patients who achieved CR. Median progression-free survival following treatment with ide-cel was 8.8 months (95% confidence interval [CI], 5.6-11.6).
Toxicity was common, with 91% of patients experiencing treatment-related neutropenia, 70% experiencing anemia, and 63% experiencing thrombocytopenia. Cytokine release syndrome (CRS) was reported in 84% of patients, 3% of which were grade 3 cases. Neurotoxicity developed in 18% of patients, 3% of which were grade 3 cases. No cases of grade 4 CRS or neurotoxicity were reported.
"Despite numerous advances in the treatment of MM, relapses are common. Patients whose disease continues to worsen after receiving standard therapy have relatively few treatment options that provide high response rates," said trial leader Nikhil Munshi, MD, of Dana-Farber Cancer Institute, via a press release. "The results of this trial represent a true turning point in the treatment of this disease."
Trial of Anti-BCMA ide-cel for Relapsed/Refractory #MultipleMyeloma Leads to Undetectable Disease in 33% of Patients: https://t.co/7UcCxXocqg pic.twitter.com/e5FOMhUcbB

— AJMC (@AJMC_Journal) March 1, 2021
#KarMMa phase 2 trial of #Idecabtagene Vicleucel (ide-cel; #bb2121) anti-#BCMA #CART therapy for multiple #myeloma. ORR 73%, CR 33%, MRD- 26%. #PFS 8.8 months. #CRS 84% (grade 3=5%), #ICANS 18% (grade 3=3%). 36% #CART persistence at 1 year @TheEBMT @ASTCT https://t.co/uTbNksdsHQ

— Amit Patel (@DrAmitPatel) February 25, 2021
Credit: Original article published here.