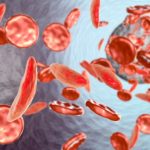 Last month, a trial of a gene therapy for sickle cell disease (SCD) from Bluebird Bio, Inc. was halted after two study participants developed blood cancer. New updates from the research team suggest little evidence that the gene therapy, BB305, caused the development of acute myeloid leukemia (AML) in one patient.
"We see no significant gene misregulation attributable to the insertion event," said Philip Gregory, chief scientific officer at Bluebird Bio, in a press release. "In totality, the data from our assessments provide important evidence demonstrating that it is very unlikely our BB305 lentiviral vector played a role in this case and we have shared with the Food and Drug Administration (FDA) that we believe these results support lifting the clinical holds on our β-thalassemia and sickle cell disease programs."
Bluebird Bio said Wednesday that it was "very unlikely" that its experimental gene therapy for sickle cell disease was the cause of a treated patient's cancer diagnosis. https://t.co/oS68jsxY1W

— STAT (@statnews) March 11, 2021
On February 16, after announcing that two patients treated five years ago with the investigative therapy developed AML and acute myelodysplastic syndrome (MDS), respectively, Bluebird halted the trials of this agent for SCD and beta thalassemia, another blood disorder.
"The safety of every patient who has participated in our studies or is treated with our gene therapies is the utmost priority for us," said Bluebird Bio chief executive officer Nick Leschly, said in a press release at the time. "We are committed to fully assessing these cases in partnership with the healthcare providers supporting our clinical studies and appropriate regulatory agencies. Our thoughts are with these patients and their families during this time."
The pharmaceutical company continues to investigate whether the treatment is linked to the development of MDS in the second patients but has sought approval from the FDA to resume the clinical trial.
Bluebird bio voluntarily placed a hold on its sickle cell program last month in the wake of two unexpected serious adverse events. After conducting further analyses, the company's confident that one of those events was probably not due to the gene therapy.https://t.co/XA7Q1FGfTf

— Endpoints News (@endpts) March 11, 2021
Credit: Original article published here.