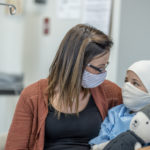 A study identified barriers that prevent parents with seriously ill children from taking part in advanced care planning (ACP).
"Parents desire more opportunities for ACP, however, large-scale adoption of ACP for seriously ill children remains unrealized. Little is known about current approaches to ACP and strategies to circumvent existing barriers to ACP provision," the study authors explained.
The study took place between December 2018 and April 2019 at two centers. Focus groups with multidisciplinary clinicians were used. The researchers evaluated current approaches to ACP. They also assessed clinician views regarding hinderances to ACP use and possible ways to mitigate them.
There were 35 clinicians in the study, including nurses, physicians, and psychosocial clinicians. Among the clinician and perceived patient and family obstacles to conversations surrounding ACP were "mixed messaging, lack of knowledge of patient and family goals, prognostic uncertainty, poor prognostic awareness, unstandardized documentation, and family dynamics," the authors reported.
In addition, clinicians shared potential solutions, "including enhancing multidisciplinary communication, creation of a shared ACP communication framework, and formal training in ACP communication to normalize ACP throughout a child's disease trajectory," per the researchers.
The study was published in the Journal of Pain and Symptom Management.
"Despite ubiquitous recognition of the importance of ACP communication, various clinician- and parent-level barriers were identified which impede ACP in children with serious illness and their families. Improvement strategies should focus on formal clinician training on how to conduct and document longitudinal ACP discussions to ensure care is aligned with family goals and values," the researchers wrote in their conclusion.
Credit: Original article published here.